Star Trac treadmill for professional and fitness workouts
Fitness is no longer just dumbbells and a lot of hard work. For fitness workout are designed modern trainers that allow natural movement of any athlete. Professional treadmill STAR TRAC E-TRE meets the most demanding requirements of fitness visitors.
Modern fitness centers are equipped with various types of sports simulators, which are intended not only to provide clients with the possibility to obtain a dream physical condition, but also to have sufficient comfort, durability and, of course, safe operation.
These treadmills are available here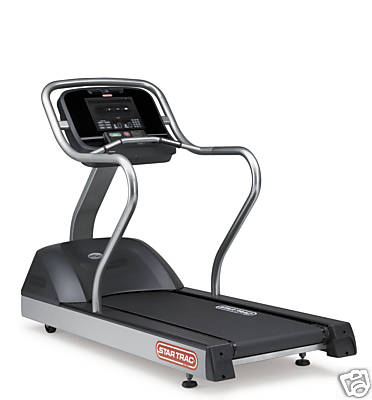 • If you are looking for true quality for your clients, then you can safely bet on the Star Trac e-tre Type of Panel.
• Professional treadmill STAR TRAC E-TRE meets the most demanding requirements of fitness visitors.
It is suitable for public and private interiors designed to strengthen the body box. This product has twelve training programs and a large (of course legible) LED console.
The big advantage of this product is the possibility of setting a wide speed range. This is calculated from 0.6 to 24 km / h. From this data it is clear that it will suit practically every pedestrian / runner.
 - Due to its robustness, which is due to its heavy weight (181 kg), the machine is absolutely stable.
 - So you don't have to worry about a collision during exercise.
 Suitable for home gym
The Star Trac treadmill from a leading fitness equipment manufacturer is also easily sized to fit smaller interiors. This 215 x 86 x 153 treadmill does not take up too much space and is therefore also suitable for home use. Its sleek look will certainly not disturb the character of your modern interior.
A trainer that guards your heart
The basic equipment of a modern and technically sophisticated Star Trac treadmill 
includes dynamic heart rate control.
- Monitoring heart rate is very important in strengthening.
- Monitoring of this parameter is very important especially from the point of view of safety of the athlete.
If you need help installing, importing or servicing, talk to our experts. Our goal is to provide the entire package and we do exactly what you want.
Contact us in any case, our services are comprehensive, we can arrange with us almost anything. We will be pleased to advise you either electronically klientskyservis@fitnesspohotovost.cz or by phone
739 767 387, www.fitnesspohotovost.cz
Visit our next projects: Kupfitness.cz  and Fitnessservis.cz 
Starší články v kategorii
Novější články v kategorii